Convertisseur Electro-pneumatique 500FC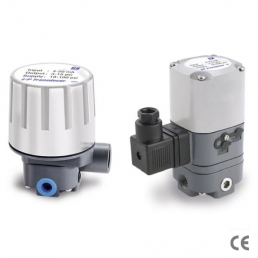 Demande de devis
Référence : 500FC
The 500 FC Series transducers are ideally used to convert current or voltage input signal to a nearly proportional pneumatic output pressure. This versatile instrument is rugged and reliable force balance transducers for use in both process control and industrial applications, for standard process control applications which typically utilise 3 to 15psig output and industrial & high pressure application which typically utilise pressure output up to 120 psig. 500FC Series transducers combines low cost, high accuracy and minimum air consumption with field proven technology. Versatile design features and rugged, compact housing with a choice of CMRI and ATEX* approved versions for explosion proof or intrinsically safe operation when used with a suitable barrier.
 
Caractéristiques
Fiche technique
Informations
Compact Design.
Low Air Consumption.
Integral Volume Booster-flow capacity up to 20 SCFM is boosted by the built in Volume booster.
Field Reversible - Output provides inversely proportional to input signal.
Flexible Adjustments of Zero & Span.
Standard Process Inputs.
Split Ranging.
NEMA 4X (IP65) Enclosure - Optional
Savings in Investments.
Vous souhaitez obtenir un prix ou un devis, cliquez sur ce lien puis complétez le formulaire. Nous vous informons que nos tarifs sont dégressifs pour des commandes quantitatives.
 
Vous avez des questions ou des demandes particulières à formuler, contactez-nous ! Notre service communication se tient à votre disposition et vous répondra dans les plus brefs délais.