Limit switch - 300FC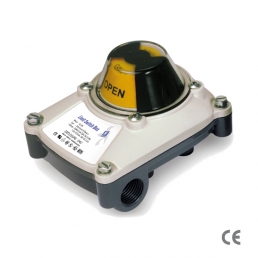 Demande de devis
The 300FC Series Limit switch visual indicator is a mechanical device which graphically displays the angular displacement (rotary indication) of a quarter turn valve or any other device operating between 0° & 90°. The limit switch indicator represents a true indication of valve position. It is infinitely adjustable and delivers a 100% change of indication, displaying 90° of rotation by utilising an amplified mechanical drive.
 
Caractéristiques
Fiche technique
Information
Suitable for Rotary quarter turn actuator.
Extremely vibration resistance design.
Corrosion resistance aluminum diecast and powder coated.
Bolts on visual position indicator is adjustable and waterproof.
Easy to adjust cam, spring loaded splined cam. No need to adjust again after initial setting. Easy setting without tool.
Captive cover bolts. No worry to loose bolts while cover opens.
Vous souhaitez obtenir un prix ou un devis, cliquez sur ce lien puis complétez le formulaire. Nous vous informons que nos tarifs sont dégressifs pour des commandes quantitatives.
 
Vous avez des questions ou des demandes particulières à formuler, contactez-nous ! Notre service communication se tient à votre disposition et vous répondra dans les plus brefs délais.