Positionneur pneumatique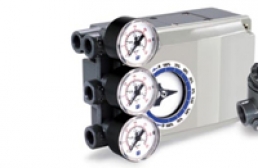 Demande de devis
The 700 FC Series Valve positioners converts a controller output (usually 3 to 15 psig or 4 to 20m ADC) to Linearly/Rotary proportional Travel/Rotation & Pneumatic outputs. The Valve positioners are based on a force balance design for control applications that requires a high degree of reliability & repeatability at an economical cost. Optional NEMA 4X (IP65/IPG6)-explosion proof versions allows for splashdown/explosive atmosphere and outdoor installation.

The 700 FC Series Valve positioners are available in two different versions namely Pneumatic to Pneumatic & Electro-Pneumatic, both can be used for Linear/Rotary movement with ranges 3-9 and 9-15 psig control signal, when you select split range. Standard range is 3-15 psig. The Valve positioners can handle the supply pressure upto 100 psig for higher pressure Industrial pneumatic and process control system requirements.
 
 
Caractéristiques
Fiche technique
Informations
Suitable for Rotary / Linear Actuators.
Corrosion-Resistance Aluminium Diecast Body.
Simple Conversion to Direct Acting or Reverse Acting.
Precise Calibration with simple SPAN and Zero Adjustments.
Suitable for Single/Double acting Actuators.
Optional Built-in Limit Switches or 4-20mA Position Transmitter for feedback.
Extremely Vibration Resistance Design.
 
Vous souhaitez obtenir un prix ou un devis, cliquez sur ce lien puis complétez le formulaire. Nous vous informons que nos tarifs sont dégressifs pour des commandes quantitatives.
 
Vous avez des questions ou des demandes particulières à formuler, contactez-nous ! Notre service communication se tient à votre disposition et vous répondra dans les plus brefs délais.