Calibrateur de process multifonction - ADT-222A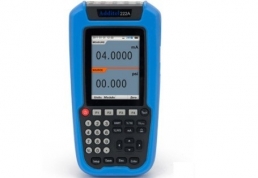 Demande de devis
Référence : ADT-222A
L'ADT-222A est un calibrateur de boucle de haute vollèe, il intégre les technologies brevetées permettant la génération, la mesure et la simulation de pressions, de températures ainsi que de signaux électriques. En plus d'être ultra-compact et robuste, ce calibrateur de poche est facile à utiliser et à transporter. Son menu et son interface qui rappellent ceux d'un smartphone, le rende très simple d'utilisation. L'ADT-222A est idéal pour l'étalonnage, l'entretien et le dépannage des processus d'instrumentation. Ses capacités d'automatisation et de documentation font l'ADT-222A une solution clé en main.
 
Caractéristiques
Fiche technique
Présentation vidéo
• Sourcing, simulating and measuring temperature and electrical signals
Sources and measures mV, mA, ohms, RTDs, thermocouples, frequency, and pulses
Simulates and measures 13 thermocouples and 11 RTDs to calibrate transmitters
Measures and sources pressure using 160 series Intelligent Digital Pressure Modules from -15 psi to 10,000 psi (-1 bar to 700 bar)
24V loop power supply
Simultaneous dual reading capability
Automatic switch test
Supports square root transmitter
Pulse frequency output for the calibration of flow totalizer

• Easy to use
Smartphone-like menu and interface make the operation simpler and easier
Ultra-compact, size 3.9" x 7.6" x 2.0" (100mm x 192mm x 52mm), and weight 1.6 lb (0.7 kg)
One hand operation

• Calibrated cold junction compensation (Patented)
Cold junction equivalent block in the calibrator
A calibrated PRT element with flexible leads is installed in the equivalent block for thermocouple cold junction compensation
This PRT element can be pulled out from the calibrator and re-calibrated and corrected at ice point by users

• Built-in temperature readout
CVD coefficients of a calibrated PRT can be input into the calibrator for accurate temperature measurement.

• Multi lingual interface
English, German, French, Italian, Spanish, Portuguese, Simplified Chinese
(Traditional Chinese, Japanese and Russian are available per request)


• Documenting and automated procedure capability
Manage the information of the device under test.
Set up automated calibration procedures, and ADT 221A performs the test, calculates the errors, displays and/or stores the results in the memory, and highlights the out-of-tolerance points.
As-found and As-left functions allow recording and documenting results for quality control.
Download tasks and upload the results.
Snapshots allow you to capture and save work.

• Build-in unit conversion tool
Build-in converters for pressure units, temperature units, temperature vs. resistance (RTDs), and temperature vs millivolt (thermocouples)

• Display
3.5 inch TFT color screen

• Rugged
Rugged design for harsh environments.
Passed a 1-meter drop test.
Three year warranty for the ADT 221A, and one year for the battery pack

• Misuse protection
Up to 30V voltage on any two sockets and up to 1A current on current sockets will not damage the calibrator. The calibrator will return to normal condition as soon as the voltage or current is removed.

• Rechargeable battery
Rechargeable Li-ion battery for 15 hours uninterrupted use.
Battery life will be reduced when 24V is applied.
The rechargeable battery is replaceable.

• NIST Traceable Calibration with data

• Warranty
1 year.
Télécharger la fiche technique
(PDF ADT-222A)