Two Valve (three-way)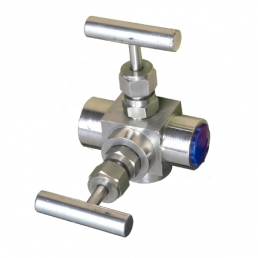 Demande de devis
Series: G2VM1
Two Valve (three-way) Manifold for Pressure Instruments
 
Two valve manifold is designed in a single block with female screwed inlet and outlet ports combining isolation valve and calibration / vent valve. Generally used on static pressure transmitters, switches and gauges.

Caracteristiques
Fiche Technique
Informations
Spécifications


Test Pressur
@ 25°C Room Temperature
Hydrostatic : Body - 620 bar
Seat - 415 bar
Pneumatic : Seat - 40 bar


 

Gland Packing

PTFE : Standard
Graphoil : Temperatures above 180°C
Material

A 105, A 182 GR F 304,
A 182 GR F 316, Monel, Hastelloy

Finish

CS zinc plated. SS Natural

Option
Drain plug. Three piece union for
gauge positioning
Télécharger la fiche technique
(PDF Two Valve (three-way)Manifolds)
Vous souhaitez obtenir un prix ou un devis, cliquez sur ce lien puis complétez le formulaire. Nous vous informons que nos tarifs sont dégressifs pour des commandes quantitatives.
 
Vous avez des questions ou des demandes particulières à formuler, contactez-nous ! Notre service communication se tient à votre disposition et vous répondra dans les plus brefs délais.