Orifice Plate Assemblies with RTJ Holder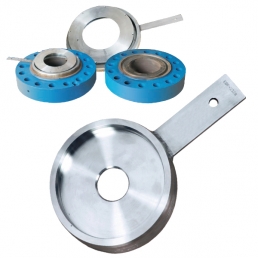 Request a quote
Series : APO - RTJ
The Plate Holder Assembly is a combination of plate holder and an orifice plate designed for ring tongue joint (RTJ) flanges. The plate holder has a function of holding the orifice plate and also a function as a gasket to prevent leakage of the process fluid. The plate holder has a oval or octagonal ring for mounting between ring tongue joint flanges. This metallic sealing system is applicable to a fluid of high temperature and high pressure.
The pressure tapping system normally is of the flange tap type.
 
Orifice plate is screwed to the plate holder. Generally the plate holder is of soft iron material. The Orifice plate is available in standard material such as SS316, SS304, SS316L, Monel, Hastelloy-C, etc. Other materials are available on request. The plate holder along with the orifice plate can be also machined from one piece. RTJ holder material is selected so that the RTJ holder hardness is less than that of flange hardness.
Features
Datasheet
Informations
Spécifications


Design

Conforms to ISA RP 3.2 , DIN 1952 , BS 1042, ISO-5167


Types

Square edge concentric, Quadrant edged, Conical entrance, Eccentric, Segmental


Plate material

SS304 , SS316 , SS316L as standard. Hastelloy-C , Monel , PP , PVC , PTFE coated , etc. can be given on request.


Orifice Bore

In accordance with ISO-5167, BS-1042, ASME MFC 3M, R.W.Miller, L.K.Spink, AGA-3


Tab Plate

In the same material as plate & is welded to orifice plate. Tab plate integral to the Orifice plate (i.e. without welding) can also be offered as a special case.


Vent / Drain

Vent or Drain holes are provided as per customer's requirement. The diameter of the vent or drain holes are as per ISA RP 3.2


Flange Union
Weld neck, Slip on, Threaded, Socket welded with RF or RTJ facing Orifice flanges are in accordance with ANSI B16.36 with minimum flange rating of 300# for sizes up to 8" or male - female flanges in accordance with ANSI B16.5


Pressure Tappings

Corner tappings are recommended for sizes upto 1 ¬Ĺ"; Flange taps from 2" to 16" ; D - D/2 taps for higher sizes


Gasket

CAF as per IS: 2712 Gr 0/1 , SS spiral wound + CAF , SS spiral wound + Grafoil, SS spiral wound + PTFE are normally supplied as per process requirement. Other materials available on request. For RTJ flanges , the plate is fixed on the plate holder. The plate holder is in Soft Iron material & acts as a gasket.

 

Studs / Nuts
ASTM A193 Gr.B7/A-194 Gr.2H as standard, Other material on request.


Jack Screw
ASTM A193 Gr.B7/A-194 Gr.2H as standard, Other material on request.


Download the datasheet
(PDF Orifice Plate Assemblies with RTJ Holder)