Stainless Steel Bourdon Pressure Gauge - 100 150 250 mm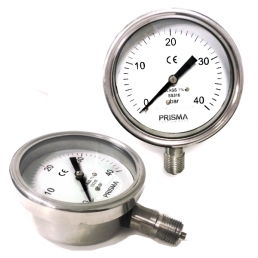 Request a quote
Model: BSPG
Prisma instruments stainless steel Bourdon Sensing Pressure Gauges are dedicated to most of industrial applications.
 
These Bourdon Sensing Pressure Gauges have been designed to satisfy requirements to operate in aggressive environment at high pressure. Bourdon in SS316 Ti as standard providing better mechanical properties guaranteeing repeatability and accuracy.
 
 
 
 
 
 
 
 
 
 
 
 
Ashcroft wika keller afriso omega elster kimo ge dwyer baumer leitenberger rueger citec bourdon
Features
Applications
Datasheet
Informations
The Bourdon Sensing Pressure Gauge :

Measurement Unit: kg/cm², bar, psig, Kpa, mbar
Accuracy: ¬Ī 1% standard, ¬Ī 0.5% optional
Bourdon Sensing Pressure Gauges are intended for Process Industries such as:
Chemicals
Petro-chemicals
Energy or Gas industry
Nuclear
Food processing...
Download the datasheet
(Bourdon Sensing Pressure Gauge PDF)