Top Mounted Float Operated-TMLS/4000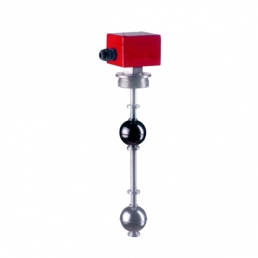 Request a quote
Series : TMLS/4000
Prisma Instruments offers Top Mounted Float Operated Level Switches for single and multiple level set points.
 
Top Mounted Float Operated Level Switch: Series TMLS/4000
This is top mounted type level switch provided single or multiple set points. It uses float that glides on the surface of liquids. This level switch is consists of Terminal Enclosure, Float Stem with Reed Switches and Float with magnets assembled inside. This type of level
switch can be used for single or multiple level controls. When level rises float travels with the liquid on the float stem and when it comes in contact with the reed switches located at a predetermined length of the stem, due to magnetic force reed switch changes its contact.
 
This type of level switch is used for lengths upto 3000 mm. It is recommended to use perforated stillwell for lengths more than 1500 mm.
Features
Datasheet
Informations
Spécifications


Type
Top Mounted Float Operated Level Switch
Mounting Orientation

Top
Float

SS 304, SS 304L, SS 316, SS 316L, PP, others on request

Flange MOC

CS, SS 304, SS 304L, SS 316, SS 316L, PP, others on request

Float Stem

SS 304, SS 304L, SS 316, SS 316L
Switch Type

Reed Switch, 0.5A, 230 VAC
Switch Housing

Die Cast Aluminium Weatherproof to IP - 65
Die Cast Aluminium Explosion proof suitable for Group IIA, IIB
Die Cast Aluminium Explosion proof suitable for Group IIC
Electrical Connection

¾"ET(F)
Length below flange

Upto 3000 mm

Process Connection
Flanged in various sizes

Minimum Specific Gravity

0.8, others on request

Maximum Pressure

Up to 10 Kg/cm² at ambient temperature, others on request
Maximum Temperature

Upto 150 C, others on request
Télécharger la fiche technique
(PDF Level Switch TMLS/4000)