Master Pressure Gauge Accuracy 0.25%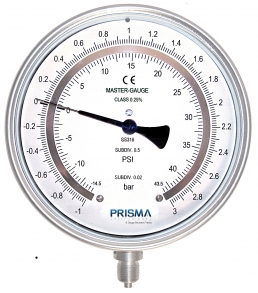 Request a quote
Référence : MPG
Prisma Instruments Master Pressure Gauge is used to calibrate measurement instruments in ISO 9000 qualification laboratories.
These calibration equipment offer an accuracy of ± 0.25%.

#Tip
Prisma Master Gauge + Hand Pomp =
Optimal combination at a lower cost for verification and calibration of your Gauges (high and low pressure)
Ashcroft wika keller afriso omega elster kimo ge dwyer baumer leitenberger rueger citec bourdon

 

 

 

#Offered
A wooden storage box available for any Master Gauge ordered

Features
Applications
Informations
Datasheet
Informations
Accuracy ± 0.25%
Negative scale: -1 to 39 bar
Positive scale: 0 to 1000 bar
Dial: 150 mm & 250 mm
all stainless steel
Pure and rugged design
Standard EN 837
ISO 9001 certified
Calibration certificate with traceability
Main applications of the Master Pressure Gauge:

Accuracy control in factories and laboratories
Control and adjustment of pressure gauges and pressure switches...
You want to get a quote, please click on the link and fill in the form. Note that our prices are digressive according to quantities.
 
For more information or any specific request, please contact our services. We shall get back to you as soon as possible.
 
Download the datasheet
(Master Gauge PDF)