Gas Filled Dial Thermometer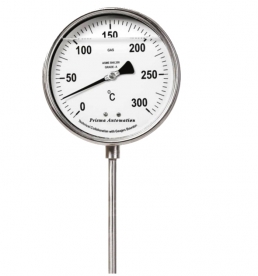 Request a quote
Model: GDT
Gas filled temperature gauge overcomes most of the limitations of other members of family.
It is offered in a very wide temperature range i.e. (-)200° to 800° C.
Practically any stem length can be offered and capillary length as long as 25 mtr, without any loss of accuracy.
Inert, non hazardous, non toxic nature of the filled system makes it virtually ideal choice of cross section of industries.
 
 
 
 
 
 
 
 
 
 
 
 
Ashcroft wika keller afriso omega elster kimo ge dwyer baumer leitenberger rueger citec bourdon
Features
Applications
Datasheet
Information
The Gas Filled Dial Thermometer:
All SS construction
Use of inert gas - N2
Rigid stem or capillary type
Fast response
Non-polluting, environment friendly
Non-hazardous for the service
High reliability
Range: (-) 200°C to 800°C with minimum span of 80°C
IP-67 protection
Accuracy ± 1% FSD
The Gas Filled Dial Thermometers are suitable for sanitary application.
Download the datasheet
(PDF Temperature Gauges)