Mineral Insulated RTD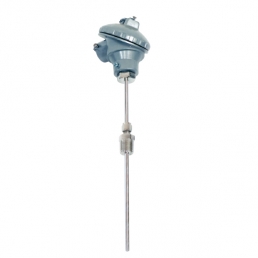 Request a quote
Model : RTD
Accurate temperature monitoring and control begins with a properly designed sensor.
RTD - Resistance Temperature Detector used for temperature measurement (-) 200°C to 500°C (upto 800°C on request), must have the physical configuration necessary for optimum thermal response to the process fluid it is sensing and the resistive element compatible with instrumentation.
 
Our fully equipped measurement and testing laboratory maintains primary reference standard calibrated and duly certified to national standards. These are used for the calibration of all RTDs we manufacture.
Various considerations apply to the design of RTD assemblies. The element should be protected from shock and vibration, yet free of expansion stresses that may shift the reading. The element assembly needs to be isolated without obstructing heat flow. The outer sheath has to withstand pressure, erosion and vibration, yet it should be small enough for easy installation and rapid response to temperature changes.
 
 
 
Jd mesure sika thermoest chauvin arnoux conax khrone afriso heraeus
Features
Applications
Datasheet
Informations
Mineral Insulated RTD Main Features:

State-of-the-art Laser Welding adopted to weld element to transducer case and bulb to sheath.
High integrity construction.
High accuracy, repeatability.
High insulation resistance (>100 M ohm @ 500 VDC at 250C)
Wide operating range i.e. (-) 2000C to 8000C
Fast response
Sheath can be bent / routed to suit installation without affecting performance.
Available in variety of sheath diameters.
Two , three and four wire configuration
Calibration in accordance with IEC 751
Class A type or 1/3rd DIN with special limits of error optional#.
Suitable for head mounted transmitters.
 
RTDs suit to All industries
 
Download Datasheet
( RTD PDF)