Very High Temperature Calibrator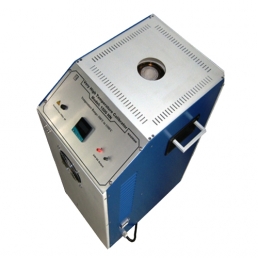 Request a quote
Reference: CTC-1500

Semi-Portable with Castor Wheels Model
Hight accuracy, resolution & stability

Interchangeable Single Hole Thermowells: ID 7, 11 & 15 mm

High Temperature Ceramic Dry Block Calibrator
Temperature Range: from 300┬░C to 1200┬░C
Accuracy: ┬▒0.5% of Span
Ideal for Steel, Glass, Metallurgical Industries, Cement Plants, Refineries, Fertilizer Plants, Thermal Power Stations etc.
Stable High Temperature Source (1500┬░C).
Range : 500┬░C to 1500┬░C
Accuracy : ┬▒0.5% of Span
Fast, Stable & Accurate
Autotune PID Controller
Heating Element : Silicon Carbide
Dry Block - High Alumina Ceramic Single(Interchangeable)
Immersion Depth : 250 mm
Interchangeable Single Hole Thermowells : ID 7, 11 & 15 mm
Semi-Portable (with Castor Wheels)
RS-232 Computer Interface
"Caltemp" Calibration Software - Optional
Sp├ęcifications du calibrateur de temp├ęrature CTC-1500
Range
500┬░C to 1500┬░C

Resolution
1┬░C
Accuracy
┬▒0.5% of Span

Stability

┬▒2┬░C
Stabilisation Time
50 Minutes

Temperature Readout
┬░C / ┬░F Switchable
Ceramic Dry Block Dial

55 mm
Probe Immersion Depth

250 mm
Heating Time (to max)

190 Minutes

Heating Element

Silicon Carbide
Interchangeable Thermowell

ID : 7 mm; 11 mm; 15 mme6e6e6
Transmitter Power Supply

24V DC
Housing / Mountin

Floor Model on Castor Wheel
Power Supply / Consumption

230V AC / 50 Hz / 6 KW
Temperature Control

Auto-tune PID Control

Instrument Dimensions
345 x 510 x 830 mm (with wheel)

Instrument Weight
40 Kgs.