Fittings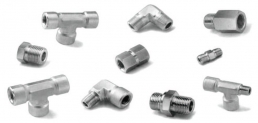 Request a quote
Design
Its self aligning
Works on thick and thin wall tubing
Resists vibration
Fits on a variety of tube materials
Have all components made of the same material and hence possess thermal compatibility and corrosion resistance.
Resistance to temperature cycling
Compensates for the variables encountered in tube materials.
Dimensions and metallurgy.
 
Performance
Works on vacuum as well as low and high pressures
Seals at cryogenic temperatures as well as elevated temperatures rated for the tube
Seals consistently over a wide range of temperature cycling
Seals repeatedly under make and break conditions
Resistant to pressure upto the burst point with the tubing without any leakage
 
Assembly
Uses geometry rather than torque for uniformity of make-up. It requires only one and quarter turn after snug tight to complete the joint.
Does not require dismantling and inspection of ferrule swaging at every make-up.
Does not require any special tools for assembly.
Download the datasheet
(PDF Raccords)