Wall-Mount Flow Heat Meters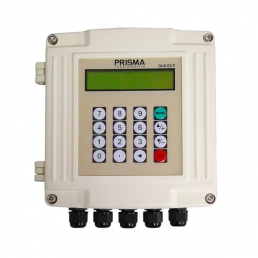 Request a quote
Réference : DUS-TT-F
Presentation :
Series DUS-TT-F wall-mount Clamp-on Transit Time Ultrasonic Flow Meters provide abundant capabilities for accurate liquid flow measurement from outside of a pipe. It utilizes state-of-the-art technologies in ultrasonic transmission receiving, digital signal processing and transit-time measurement. The proprietary signal quality tracking and self-adapting technologies allow the system to optimally adapt to different pipe materials automatically.
The flow meters of the DUS-TT family are carefully designed with their user-interfaces self-explanatory and their operation simple and easy. The unique clamp-on fixture design makes the installation very simple, requiring no special skills or tools.
Due to the non-invasive nature of clamp-on transducers, there is no pressure drop, no moving parts, no leaks, and no risk of contamination or corrosion.
 
 
Applications:
Water (hot water, cooling water, potable water, sea water etc.)

Petroleum products

Chemicals, including alcohol, acids, etc

HVAC, energy measurement system

Beverage, food and pharmaceutical processors

Secondary sewage, waste treatment, etc.

Power plants (nuclear power plants, thermal & hydropower plants), heat energy boiler feed water.

Metallurgy and miming applications

Pipeline leak detection, inspection, tracking and collection

Network monitoring
Download the datasheet
(DUS-CC-F PDF)
Non-invasive transducers are easy to install, cost effective, and require no pipe cutting or processing interrupt. Since the transducers do not contact with the liquid, fouling and maintenance are eliminated.
 
Standard and Explosion-Proof ATEX (ExdIIBT6; LCIE 09 ATEX 3008) transmitters are available, Wide liquid temperature range: -40°C~250°C.
 
Remote operation by the wireless handheld operator. No matter the pipeline in high altitude or underground, users can install or adjust the transducers more convenient.
 
The wireless handheld operator has wireless remote reading function and it also can operate the meters instead of panel operations.
 
Built-in large capacity memory and USB data download function. The downloaded data can be opened by EXCEL directly.
 
The heat measurement function by configuring with paired Pt1000 temperature sensors.
 
Wide range of pipe sizes from DN20 to DN4500. Wide bi-directional flow range of 0.003 m/s to 12 m/s.